Warranty Terms and Conditions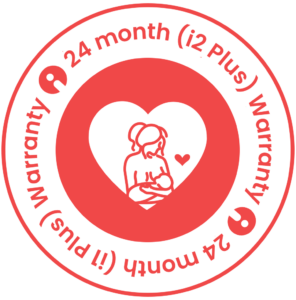 imani breast pump comes with a 24 month (i1 Plus ⁄ i2 Plus) manufacturer's warranty for the main pump in Singapore.
There is no warranty for the pump components and accessories.
The warranty period covers one year from date of purchase or date of birth of baby, whichever is later. The gap in between both dates should not be greater than six months.
How do I register for Warranty?
There is no registration required! Just keep the receipt of your purchase and bring it along with you when you are heading to our service center. If you have a hardcopy receipt, do take a photo for safekeeping in case it fades off.
What does the Warranty NOT cover?
The warranty does not cover damage caused by:
Misuse, abuse, negligence or accident howsoever caused;
Improper storage;
Unauthorised disassembly, repair, alteration or modification of the product or components;
Failure to comply with the operating instructions of the device or components supplied with the product;
Normal wear and tear; and
Overflowing of liquid (water ⁄ milk entry) into the electric breast pump
The warranty also does not cover misplacement or theft of the breast pump or supplies.
The user of this product assumes all responsibilities and risks for use of this product.
For Warranty Claims or Repairs, what do I need to do?
Contact us by filling in the Warranty Claims ⁄ Repairs Form below. We may ask you some questions or request for more photos ⁄ videos to do a preliminary assessment on the defect. Servicing of the pumps are strictly by Appointment only. We will provide the address of our service center once appointment has been confirmed. If you are unable to travel to our service center, you may request for a home service at a charge of $30.
Warranty Claims ⁄ Repairs Form
Courier Return
You may opt to send the faulty/damage item via courier as well. For courier return, please refer to the steps below:
Please fill up clearly in our Return Merchandise Form and send it together with the parcel.
Item must be sent using registered postage or courier with tracking number. We are not able to advise on the delivery status of your return parcel and are not responsible for any delay, loss, or damages due to transit. We reserve the right to reject return parcels that are damaged during postage or courier.
After repair, you may opt to self-collect or arrange your own courier to pick up your pump. You may request us to arrange a courier service for you at a charge of $5.
We will provide 1 month warranty for the serviced pump for the same fault.
If the same issue recurs on the same pump after two services, we will provide a new pump motor in exchange with the customer.
Free Replacement Pump Service
In the event that more time is needed to service your pump, we can provide a temporary replacement pump. A refundable deposit of $50 will be collected upon pick up of the replacement pump from our service centre. Upon return of the replacement pump, the deposit will be refunded in 2 to 3 working days after the pump has been checked to be in working condition and does not contain any backflow milk.
For imani electric breast pumps with expired warranty, we can service the pump at a nominal fee of $30. Additional charges may be applicable for the parts replaced and courier service.
imani Singapore reserves the right, at its discretion, to change, modify, add, or remove any of the Warranty Terms and Conditions at any time.